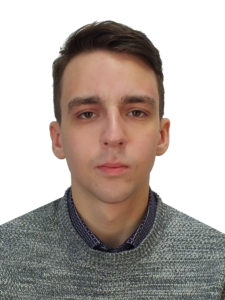 KIRILL SOSNIN
Combining law and journalism skills to fight for rights
"I was born in Yekaterinburg," Kirill Sosnin begins. "It's a big industrial city in the heart of Russia, famous for its factories, nuclear station, and secret plants." Deeply disturbing to Kirill is its infamy, stemming from an accident that took place in the Mayak factory in 1957, which he says is called, "the first Chernobyl." Yekaterinburg lies just east of the Ural Mountains in a region of cedar forests and lakes, but 250 miles to the south is a place that is veiled in secrecy. Its town of Ozersk (also known as "City 40"), is one of the most contaminated places on earth.
"There was a huge release of radioactive materials back then," Kirill says. 11,000 people were evacuated but 272,000 people were exposed to radiation sickness. All livestock were slaughtered, and crops were plowed under. The Guardian has reported that for over forty years, the Mayak plant is believed to have dumped the equivalent of four "Chernobyls" into local waterways. An international panel determined that Ozersk is where "almost all of Russia's reserve fissile material is stored." According to locals, the dumping continues even today. They refer to a "Plutonium Lake" that registers 2.5 times the level of radiation released from Chernobyl.
What is most troubling to Kirill is that in 2017, a strange cloud rose from the area that reached Moscow, and Western sources picked up alarming readings as far away as France. "However, the government decided to hide this incident," he says. "The media didn't spotlight this at all, so I've tried to change the situation."
Journalism is one of Kirill's passions. He says 90% of people in Yekaterinburg were unaware of the cloud, so he wrote an article pointing out that the Russian constitution stipulates that every person has a right to information about ecological situations, and that "this right was roughly violated." He sent it to numerous media sources, but only a few dared to publish it. "The government monopolizes mass media, and there is only one official point of view on current problems. Most discussions about politics and economics are prohibited," but he believes it isn't as harsh as Chinese censorship. As long as the President's name isn't mentioned, retaliation doesn't usually follow criticism.
Kirill says his life changed profoundly when he left Yekaterinburg in 2015 to enroll at Lomonosov Moscow State University. One of the reasons is that it brought opportunities to shine, such as winning two Olympiads, one in sociology at Saint-Petersburg State University and one from LMSU in social sciences. He also earned a scholarship for student excellence from the Russian government.
Another major change came from joining organizations for his causes. He pursued his concern for the environment by joining an ecological association called Me Too Russia, and became head of the digital department. He also became head of the media department for the Student Board of Science. His activism led him to attend the Russian Youth Environmental Program in Hanover, USA, offered by the US State Department's Bureau of Educational and Cultural Affairs to study ecological laws and experience American culture. "We did a lot of community works and studied in Dartmouth College," he says. Endangered species are a special priority to Kirill. To preserve Russian's rich biodiversity, the national parks need better support, Kirill says, so he and his friends have created a charity shop (eco-lapa.ru) to raise money for camera set-ups and fighting poachers.
He'd entered LMSU as a law student, honoring his conviction that the creation of human rights standards and their ongoing development after World War II "is the greatest contribution to people's welfare for all times," as he puts it. His interest in journalism had intensified, however, so he found a way to blend the two.
"The Fuller Journal is my university project," Kirill says. He finds typical law journals wanting in content and design and has printed the university's journal with fresh articles and modern design. He hopes to boost the potential for outside collaboration, "by asking professors and judges from Europe to share their opinions on current topics and their experiences." He gathered a team of likeminded students and published an issue focusing on information technology and law. Unfortunately, he battles administrative preferences for "80s-looking journals," he says. Kirill is passionate about leading his own media "because you can start a new discussion which can change stagnant laws or political elements. The combination of law and journalistic skills is ideal for fighting for rights." An enthusiastic MOOT court participant, Kirill hopes to argue cases involving crypto-currencies, artificial intelligence, and protection of rights in Russia and cover them in the journal as well.
Professionally, Kirill writes articles and cinema reviews on Russian websites, regularly submitting to Discours, a popular Russian blog covering culture and politics with 30,000 followers. "I am a huge fan of movies and visit most premieres to write reviews afterwards. I still cannot get used to the fact that I communicate with journalists whose fan I was in childhood." Discours exemplifies outlets that balance on the edge of censorship, he says.
Kirill is especially enthusiastic about his Paideya project. The name is derived from the Greek word for education. He and several associates are developing an NGO devoted to a wide range of educational causes with Kirill serving as projects director. The group won recognition at LEAP, an international summit for entrepreneurs held in Croatia. Paideya won a second place nomination for Best Socially Responsible Startup. Additionally, the startup made the shortlist for the prestigious Yidan Prize, competing with professors from MIT, Harvard, and others.
Kirill plans to continue his ongoing projects and start new ones, promoting measures that "could help bring Russia back into international politics in a way that is profitable both for Russia and other countries." He will ultimately go into law to help "make the planet a peaceful and friendly place to live."