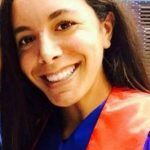 What gets me out of bed in the morning is the urge to leave the world a better place than I found it.
In the year 2000, Jarret Fisher was six years old, attending her kindly great-grandfather's birthday party. He'd been born in the year 1900 in the shtetl of Gomel, Russia, now Belarus, where his family had been forced to live. No one had told Jarret that the shtetl became a ghetto ravaged by a deadly pogrom, that Jewish citizens were murdered unless they converted to Orthodox Christianity. She only knew that her hundred-year-old grandfather had come to Chicago as a boy. Years later his autobiography was discovered, written so the family would remember its heritage. He described his daily life in Gomel, each member of his family, including the two sisters killed in the pogrom, and his arduous journey to America.
His daughter, Jarret's cherished grandmother, cared for Jarret while her mother worked to support the family. Grandmother Betty's influence ran deep, and Jarret especially loved Betty's car's license plate that said ONENESS. "If I had to say in one word what I hope for in this world," she says, "it is oneness." With advancing Alzheimer's, her grandmother was fading from Jarret's life, however. Despite this heartbreak, she persevered in her tennis competitions, ranking number one in the country for twelve-year-olds and earning a full scholarship to live and train at the John Newcombe Tennis Academy in Texas.
At the academy, she lived among players from more than forty countries, and they became her family. A girl from Honduras invited Jarret to her home in Tegucigalpa, promising security guards and bullet-proof vehicles, essentials amidst the city's extreme poverty and crime. As a descendant of a pogrom survivor, Jarret understood the desperate need to feel secure.
Later in college, she also understood her friend Jacques Rizinde from Kigali, Rwanda. Jacques was seven when the genocide began in 1994. "His father was a Hutu, his mother a Tutsi," Jarret says. "A Hutu neighbor hid the Rizinde children. Two weeks later, Jacques sneaked away to see his parents. He found them on the side of a road hacked to death." Jarret points out that, "As you read these words, genocide is unfolding in approximately a dozen countries around the globe."
These experiences make it personal for Jarret to seek a career that contributes to a more peaceful world. As an NCAA Scholarship Athlete, she chose DePaul University's women's tennis program and its Driehaus College of Business because DePaul University is known for preparing students dedicated to serving others and easing the strife of poverty and marginalization.
The competitive tennis program kept her busy, yet she believes it also taught her equanimity, a necessity for one who plans to take on the injustices of the world. Her volunteer work as an undergraduate began in the St. Vincent de Paul Food Pantry and Kitchen for four years.
Amazingly, Jarret found time to keep up her academics and received the Delta Sigma Pi Scholarship Key as a graduating business student with highest GPA along with the Reverend John Cortelyou Award from the athletic department. Continuing as a grad student, she became a research assistant for two years with a full tuition scholarship and stipend for supporting three professors in the university's Department of Management and Entrepreneurship.
During this time she received a Vincentian Endowment Fund Grant of $4,000 for something dear to her heart: organizing Holocaust remembrance and genocide awareness events. Her committee named themselves after a secret resistance group, The White Rose, formed in Nazi Germany to protect people from the criminal violence of the Third Reich. "We invited Holocaust survivors to speak to students and community members," she says. "We hosted documentary screenings and on Holocaust Remembrance Day (Yom HaShoah), we handed out thousands of informative index cards and actual white roses." Costco and FTD Flowers donated flowers. She also participated in the Illinois Holocaust Museum Young Professional Committee.
Jarret found numerous study/travel scholarships over breaks and vacation times, volunteering to work with NGOs or take classes or help with projects, beginning in Denmark, Sweden, and Iceland, then Poland, Argentina, South Korea, and India. Interested in voting integrity, she joined organizations to monitor elections in Chicago, Armenia, and Ukraine.
Jarret participated in a select group among State Department International Exchange Alumni for a seminar on "Building Entrepreneurial Ecosystems" in American cities. She discussed Sustainable Development Goals (SDG) and US foreign policy in the United Nations Association of Chicago. She was also elected to represent USA at a clean energy forum in Vancouver, Canada.
Working as an intern, Jarret served as a legal intern at the Alzheimer's Association Headquarters in honor of her grandmother. She also served as a legislative intern for Senator Charles "Chuck" Schumer. Another internship brought her to the Gang Crimes Unit of the Cook County State's Attorney's Office in Chicago where she assisted with the sentencing of defendants found guilty of a single homicide who would spend their lives behind bars. "Yet," she points out, "despots who have orchestrated massacres continue to rule nations. Justice is not applied equally on the international level."
"The world said Never Again after the Holocaust. The world said Never Again after Rwanda. Yet the world continues to turn away from genocide, allowing Again and Again. I am committed to carrying on efforts to break this genocidal pattern." Jarret believes we can respond on the basis of our shared humanity to combat individuals who have no conscience, and "cast off the cloak of indifference to respect the inherent dignity of every person."