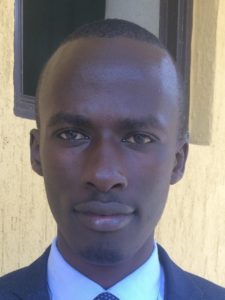 FELIX MANZI
Social change through education and law
The Wind of Destruction, as Rwanda's revolution for independence in 1959 was known, drove Felix Manzi's grandparents to seek refuge in Uganda. They were young, but twenty years later in 1979, upheaval began in Uganda with the return to power of Dr. Milton Obote. Again the families uprooted their lives and fled. Still afraid to return home to Rwanda, they became refugees once more, taking shelter in Muleba in northern Tanzania, where Felix was born in 1992. The Rwandan Civil War broke out two years later, inciting a mass genocide that killed a million people, the machete its ghastly symbol.
"My country and I have tasted the most bitter part of conflicts, even from twenty years before I was born," Felix says.
He learned to speak some of the many languages of the region including Kinyarwanda, Luganda, Haya, Lunyankore and Swahili—as did all refugees from Rwanda, but he knew there were many times when it was dangerous to speak his native language around police or immigration officers. He witnessed illegal detentions and rampant corruption throughout a law enforcement system that embodied a "might is always right" approach with refugees, his family numbering among its victims.
At age nine, he was fortunate to be able to get an education in boarding schools in Masaka, Uganda, returning to Tanzania during holidays. Then in 2005, at age thirteen, the family could finally return to Rwanda. Felix remembers being a little amazed at hearing Kinyarwanda spoken freely without fear. Though still a boy, he dreamed of studying law and continued attending boarding schools until 2010, when he attended Alliance High School in Kigali, the capital.
With a focus on the history of Rwanda and the Great Lakes Region of Africa—home to 107 million people—he sought the cause of all the suffering, violence, and mass emigrations. "I wanted to be a voice for voiceless and fight against social injustice." Felix heeded the words of Nelson Mandela, who said: "Education is the only powerful weapon for changing the world."
On a government scholarship to pursue a degree in economics, Felix registered at National University of Rwanda, but econ wasn't for him. He tried to change his major to study law but was denied. He'd decided that the root of regional chaos and violence was "poor leadership and weak institutions that can't insure the peaceful transition of power" and knew he'd have to become a leader armed with the authority of law to make a difference. Staying true to his dream, Felix dropped out of college.
A door had seemingly closed, but he searched until he found a window. In November of 2013, Felix became a Youth Ambassador through Aegis Trust, a Rwanda Peace Education Program in Kigali, newly rebuilt and modernized after the genocidal rampage. Aegis Trust's overall program is a global organization based in UK that aims to prevent crimes against humanity.
The workshops focused on public speaking, leadership, group facilitation, advocacy, and project planning. Afterwards, Felix says the "youth champions return to their communities to design and initiate peace-building projects." Out of 500 youth champions, ten were selected to become youth ambassadors, Felix among them. By 2015, he became a trainer of "over 1,000 young people from across the country," he says. "I carried out many peace-speaking tours to schools and communities, emphasizing critical thinking, empathy, and leadership." He blames, in part, the lack of this kind of education for the senseless regional conflict. Youth who lack the ability to think critically fuel aggression. "They're easily mobilized," he says, "and recruited to do violent activities incited by bad leadership." With satisfaction, he witnessed young people becoming influential and implementing peace projects in their villages.
Also as a Youth Ambassador, Felix offered a program called Meet the Parliamentarians, bringing young people together with members of parliament to do direct advocacy. The Rwandan Parliament now has a high percentage of women holding office, he says.
Volunteering for Peace One Day, Felix coordinated other volunteers on International Day of Peace Celebrations. The youth champions he'd helped train made a special contribution to the day's success.
Previously, in July of 2014, he'd also led a weeklong "training of trainers" on a human rights-based approach through Action Aid Tanzania in Dar es Salaam. The following summer he participated in a similar event, Training Facilitators by Global Platforms, held in Nairobi, Kenya.
At that point, Felix had already become a Global Youth Ambassador through A World at School, a mission launched by former U.N Secretary General, Ban Ki Moon and Special Envoy for Global Education, Gordon Brown. This exciting and ongoing position requires Felix to host meetings with different stakeholders in education to assess challenges and make recommendations.
Throughout his travels, he'd also visited refugee camps in Rwanda, documenting their stories. Felix had already started writing a book about his own experiences and hoped to add more voices, calling the collection Their Footprints. His knowledge of African languages made it easy to bond with interviewees, such as the young girl in the Gashora reception camp near the border with Burundi. She confessed she'd had to drop out of school because she had no uniform or textbooks. "How can I concentrate," she asked Felix, "when my parents and young sisters are starving back home?" She spent most of her time with the fishermen at the lake looking for food for her family, she said, "but they take advantage of me…" She used her T-shirt to dry her tears.
Their Footprints will be published soon, but the writing process dovetailed into a bigger project promoting literacy and education. Felix founded Their Footprints Foundation to establish libraries in the camps and provide school materials.
Felix's dream came true in 2016 when he earned a scholarship from Wells Mountain Initiative, based in Vermont, USA, which empowers promising young people in developing nations through education. He enrolled in the School of Law at University of Kigali, specializing in International Law and Migration studies. He also is serving as coordinator for Wells Mountain Initiative Rwandan Fellowship to coordinate all community activities and process official documents, an ongoing position.
Felix traveled to Lusaka, Zambia for Creative Campaigning and Leadership Training by Global Platform and in November of 2017 attended the Berlin International Human Rights Congress. The next month took him to Equatorial Guinea for the Sixth Forum of African Union Commission on International Law.
On a visit to the Rwandan genocide museum guest page, Felix wrote, "Never, ever at one moment doubt that the genocide against Tutsi happened in Rwanda. It happened. Never debate about who stopped the genocide; it was Rwandans themselves who stopped it." Those who deny it rob the million innocent Rwandans who perished in 1994 of their dignity. He sees fact-based history, empathy, respect, and critical thinking as a basis for peace, for never repeating past mistakes, for beating machetes into plowshares.