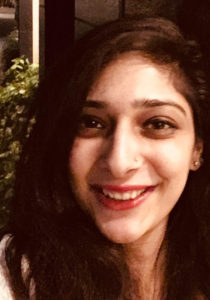 AREESA PEERZADA
Creating the space for humans in conflict to touch each other's hearts
A picture of a little girl in a fluffy pink fairy costume fills the screen. Areesa Peerzada relates to this image because armed, camo-clad soldiers march in the child's immediate background. There were no pink wands and wings for five-year-old Areesa. "I remember my childhood as a blurred vision of barbed wires, men in uniform, gun shots, and grenades," Areesa says. She grew up in Kashmir, which is considered a potential earthly paradise, but instead of a enjoying a sense of wonder or even of security, she felt terror at bomb blasts, the horror of violence, and constant vulnerability—"a life that begins at the barrel of a gun." Cross-border conflict shaped the everyday life of the region. "The vale that entraps a conflict as old as history," she says, "has claimed lives beyond number in a brutally violent chasm that separates India and Pakistan. This Kashmir I call home is a place that sees violence even its dreams."
She watched her mother hurry to the hospital at ungodly hours "during the worst shootouts, shutdowns, and curfews." Areesa asked her why she had to go, and the answer would inspire Areesa forever. Her mother explained that, as a doctor, she had to go when people needed her, and nothing would stop her. One thing the conflict didn't take away from the family was their sense of love and humanity. Her grandfather, a devoted Muslim, taught her that "the smallest act of kindness is to smile. It is the beginning of where the seeds of kindness and compassion are sown."
Perceiving life through these lenses, Areesa believes that "if someone needs you, you just show up and smile. Running away is not an option. Neither is making an excuse." While most people ask what they can possibly do about a centuries-old conflict, Areesa feels it was only natural that her education should address it through conflict resolution and international co-operation.
When she entered the famed St. Stephen's College, she chose Economics, Political Science, and Contemporary India as her fields of study. In search of scholarships and merit awards, she volunteered for and later served as an officer in several organizations, such as the Urdu Literary Society, the Students' Union Society, the BA Program Society, and the Social Service League. While still in her first term, she decided to enter an essay contest for the Urdu Literary Society. Upper classmen who specialized in the Urdu writer Faiz Ahmad Faiz considered him deeply romantic, but Areesa saw his dream of betterment for his people and the love of freedom, and, "against all sanity," defended that interpretation in her essay. When the winners were announced, she couldn't believe it when her name was called. This award meant more to her than the many other awards, prizes, and scholarships that were to follow—until another opportunity arose.
Knowing without a doubt that it was pointless to apply for the most prestigious scholarship given out by the London School of Economics—a fully funded Masters program at the LSE—she nevertheless dared to compete with the brightest students for it. She'd actually already been accepted into the program, which she considered an impossible dream. As a young female with a humble early education in Kashmir, she felt ridiculous to even hope. She'd graduated with distinction from St. Stephens, but that July, she returned to Kashmir, planning to drop out for a year to earn the money for her masters. On July 30 at eleven at night, friends came calling to deliver a letter informing her that she'd received the scholarship. She broke down. "I even asked them if they were drunk!" It was the real deal, though. "Magical," Areesa says. She completed the program in 2016.
Next, she spent six months interning at Transparency International, India as the leader for their Data Analytics Team, responsible for core data management and analysis as well as "people management." She dealt with students, young professionals, lawyers—some older, some younger—hailing from different backgrounds. "I've come to realize that leadership is about inspiring others, being a mirror to let them see their best self, and persistence in driving your team (community/country) toward a better tomorrow."
Looking ahead, Areesa hopes to join an international organization that brings relief to people, especially children in conflict-ridden areas. She envisions "creating spaces for people to have an active dialogue within themselves and with the State." Forming interpersonal bonds, she says, can be the beginning of transformative change, especially through art, poetry, and stories—"anything that has the potential to touch other people and promote honest and open-minded understanding of the human condition," especially regarding the Kashmir conflict.
"Azadi fanatics cannot even bear to listen to anything else," and the same applies to the Indian nationalists, she says. "If for once, instead of judging or waiting to launch our volley of arguments, we endeavor instead to listen and simply understand, that can be key to alleviating human suffering." Shared stories have power, she believes, "not necessarily harrowing tales of agony, but the simple act of spilling one's heart out can perhaps bring bonds—even momentarily, even shared across continents."
One art form stands out for Areesa. As a fan of Bollywood, she carries the lines of the Sufi mystic Rumi with her on the dance floor. "Dance, when you're broken open. Dance, if you've torn the bandage off. Dance in the middle of the fighting. Dance in your blood. Dance when you're perfectly free." A quote by Nietzsche also moves her: "And those who were seen dancing were thought to be insane by those who could not hear the music." Areesa definitely hears the music.
"As a little girl," she says, "looking from a broken window as the smoke from a blast went up, I prayed for change. I intend to be that change. I intend to be a leader so the little girl with the pink wings and wand can be a fairy."